【 Designer Intro 】《 Fools Paradise 》 Incredible Combination of Urban Vinyl Figure Toys | Hong Kong Toy Designer
《 Fools Paradise 》 Incredible Combination of Urban Vinyl Figure Toys | Hong Kong Toy Designer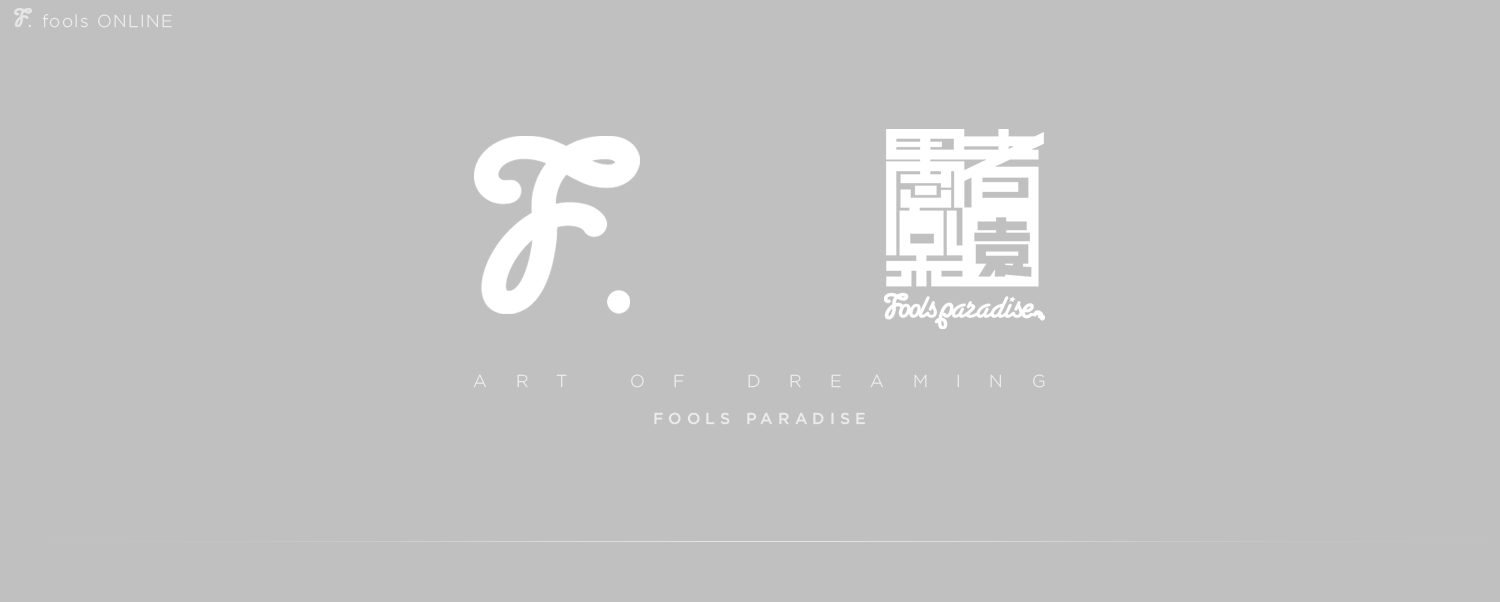 Fools Paradise founded in 2008 is a design studio specializing in sculptures and vinyl figures. Founder Alan Ng began his career as a member of the four-person Boredomsqueezer artist collective. They began as a graphic design and multi-media group but soon unveiled a series of 16 handmade action figures at the Boring Exhibition in Hong Kong in 2005.
After that Boredomsqueezer progressed their work and in 2006 submitted an exhibition titled Walking Paradise which consisted of an haute couture female fashion figure series.
Soon Alan Ng formed Fools Paradise and began to create original characters for a line of sofubi creations
Soon incorporating pop art elements into his work, Ng's creations continue to evolve establishing a very unique presence in the vinyl and sofubi market.
There is a distinct look that comes with Fools Paradise creations. Aside from being meticulously handcrafted works of art, Fools Paradise has gone to create parody pop art figures of a number of well known iconic characters.
Artwork / Products
One of their most unique pieces Super Mario x Leon the Professional blends the iconic Mario from the Mario franchise along with peach to create a homage to the cult classic Leon the Professional movie.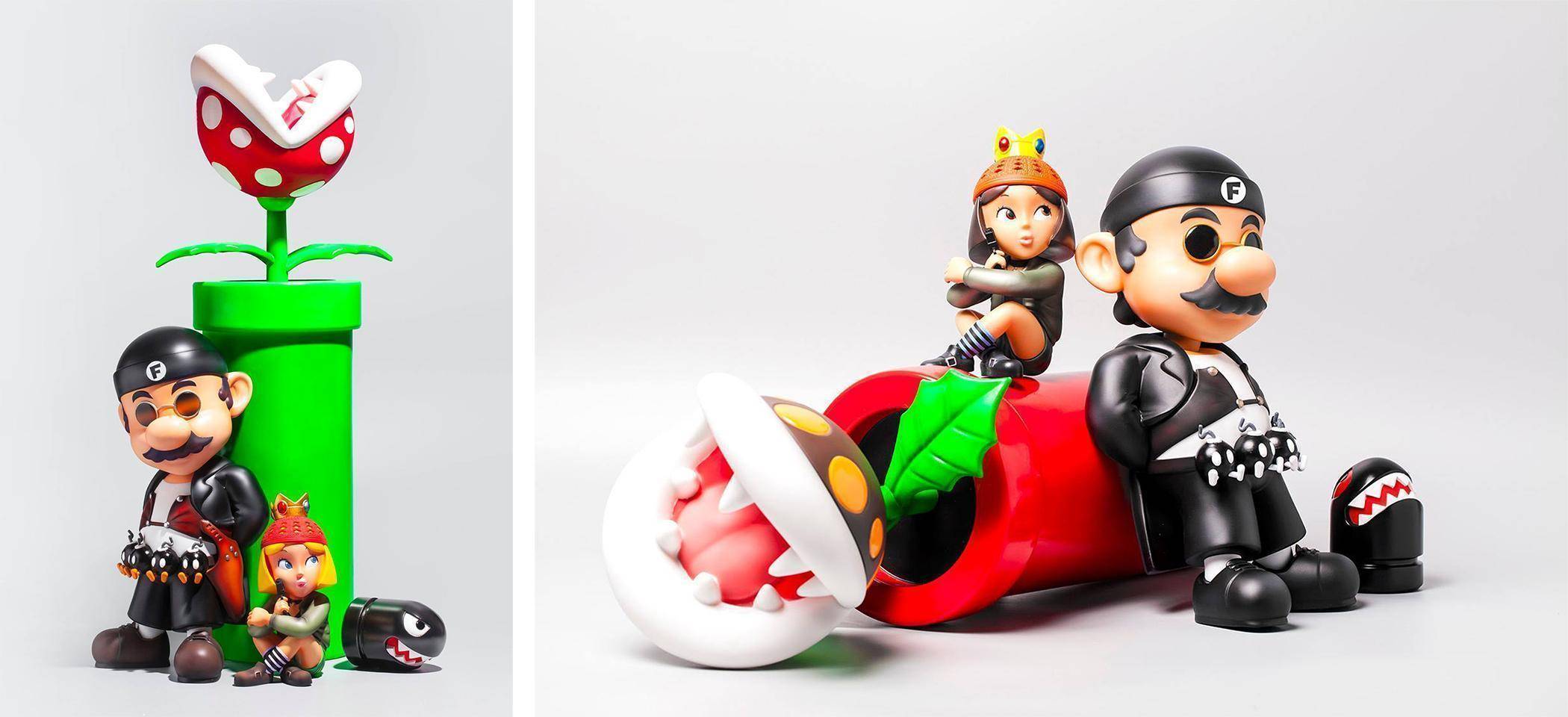 Mario donning a beanie and circular sunglasses much like Leon sports an intimating overcoat and a pistol with a bullet bill instead of an actual silencer. He also carries his memorable potted plant which has been cleverly replaced with a piranha plant peaking from a well recognizable green pipe.
Peach is sporting a look very similar to Matilda, the young girl that Leon takes under his protection after her family is killed. Training her to become a killer like him so she may seek revenge on the people who destroyed her family.
The entire piece is very clever and eye-catching. There are details that will keep you exploring it wondering if you will spot another dual homage of sorts to both Mario and Leon the professional.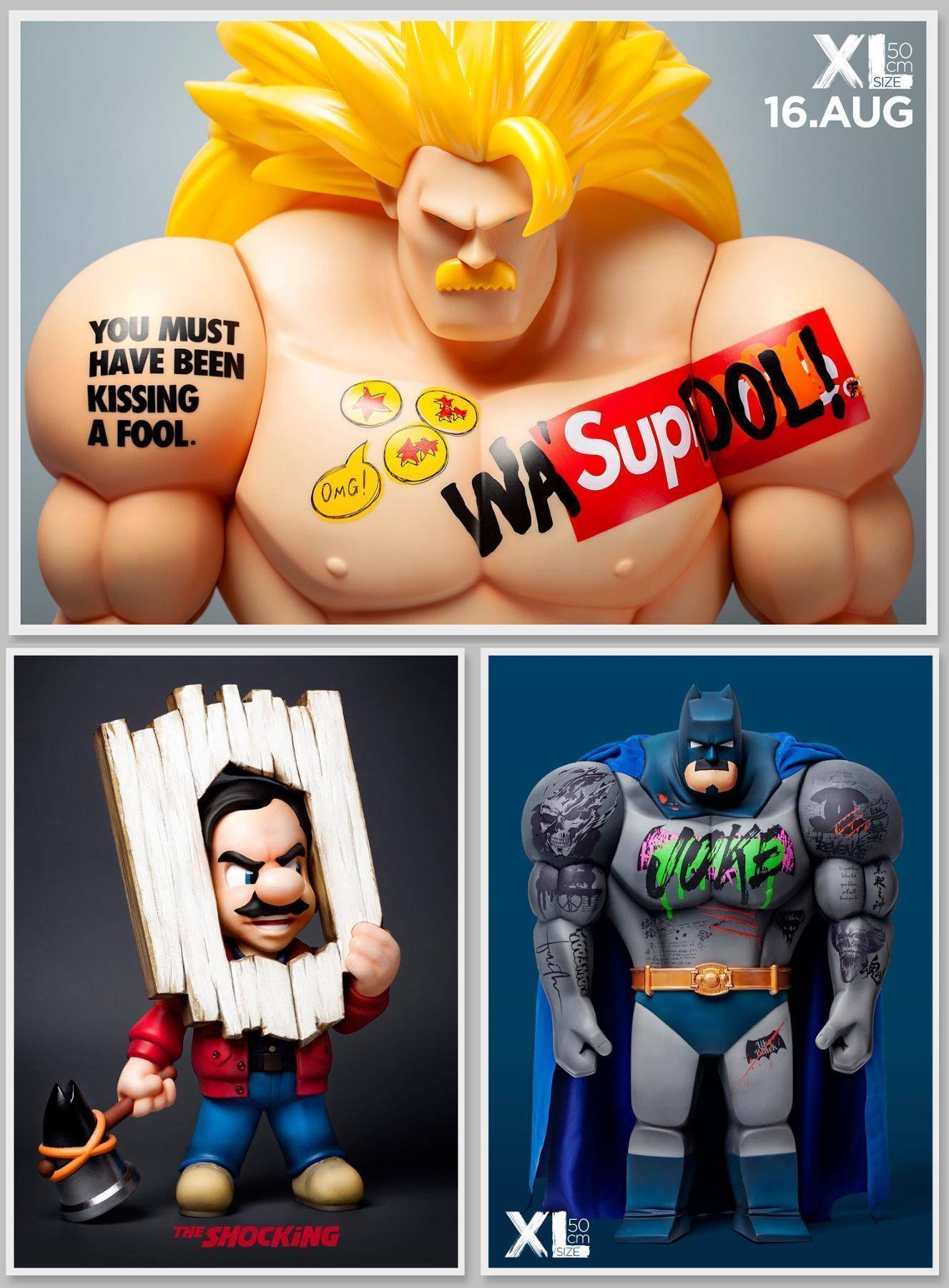 Another interesting piece from Fools Paradise is the XL Size DOKKAN AWAKEN figure. This statue approximately 56cm in height is an original character with a very familiar Super Saiyan inspired the look. You may be familiar with the popular dragon ball franchise but this interesting twist on Goku's likeness sports sharp green eyes and a blonde mustache.
Covered in images including "You must have been kissing a fool" plastered over a massive shoulder, this character has been given a ton of detail and the unique Fools Paradise style the studio is known for. You gotta love those Sneakers he's sporting too, something every Super Saiyan should have. It will also be difficult not to notice the massive mound of spiked gold hair that rests against the figures back. This is definitely a homage to the Super Saiyan 4 power level.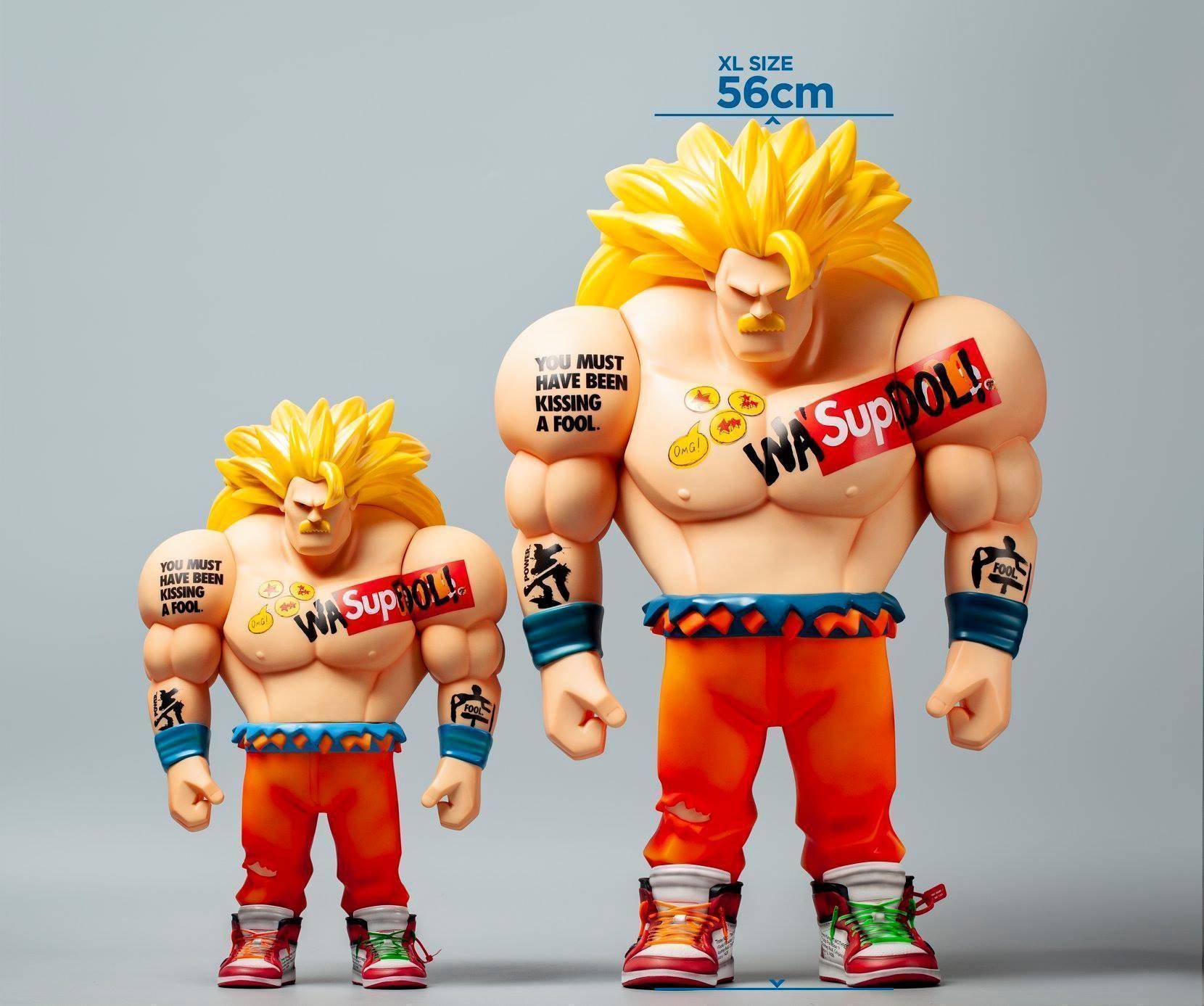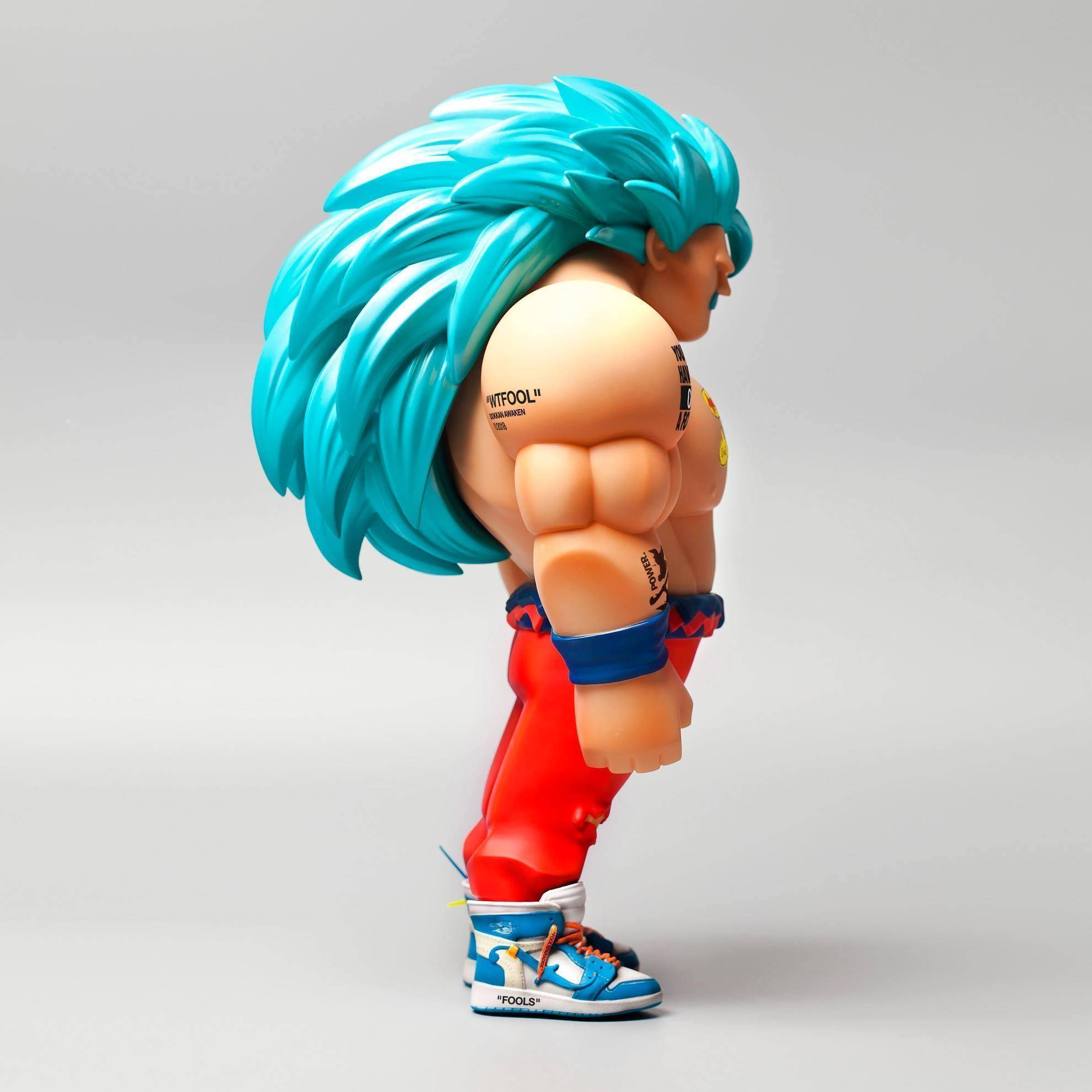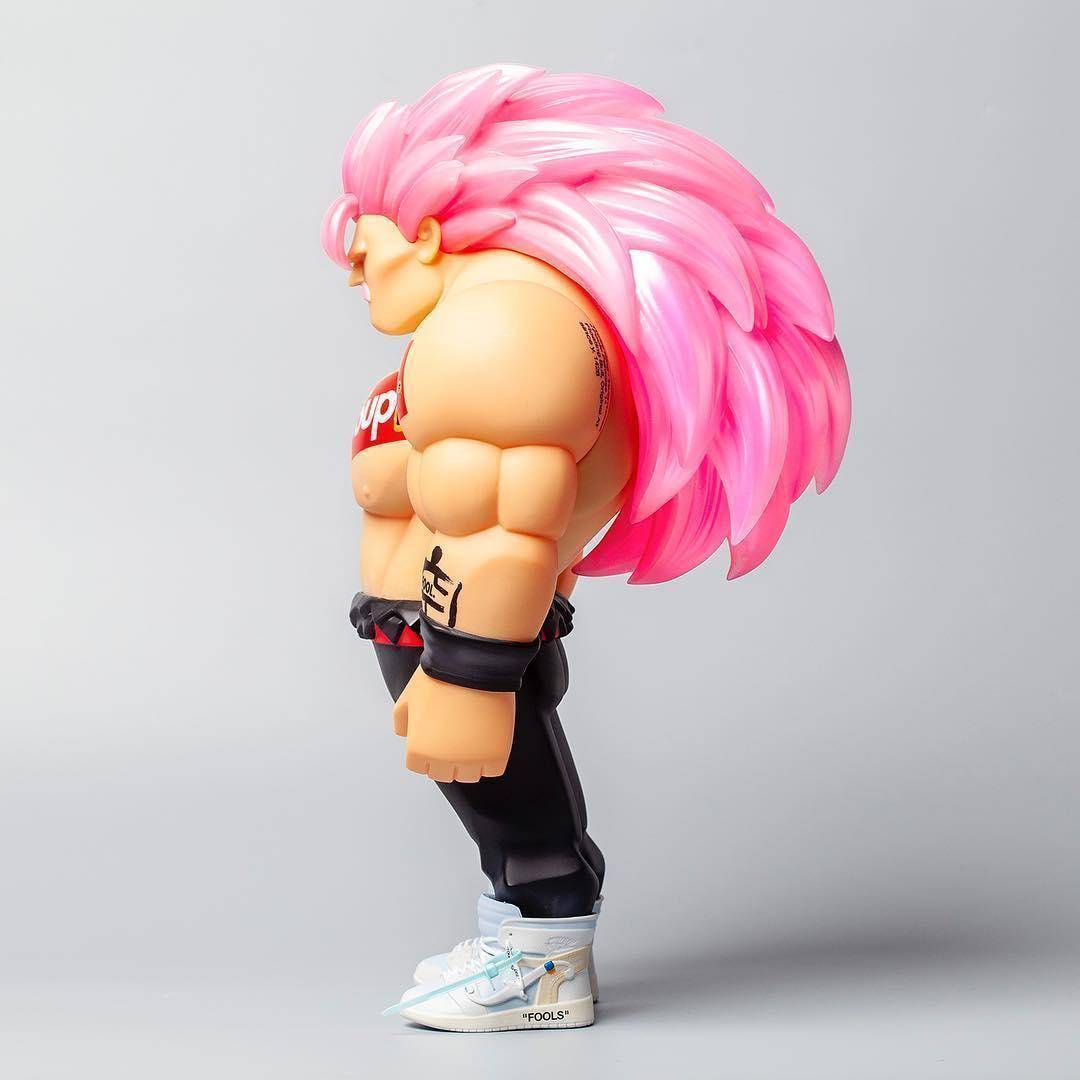 Batman - LOWFOOL - XL 89's
Next up is XL 89's LOWFOOL 50cm comic special edition of the fools paradise character.


I mean It's Batman, with a mustache and goatee. What's not to love? The super muscular homage to the caped crusader is comically disproportional but in line with the signature Fools Paradise style. Even the classic utility belt makes an appearance. One of the most interesting aspects of this figure is the real cloth that was used to construct the cape, You can see it flowing and settling naturally behind the super-sized rendition of batman.
There is a graffiti styling covering where the batman logo would have been and instead, the world joke is sprayed painted on top of a stain of purple scribbles and green paint. Giving a clever nod the dark knights arch-nemesis.
The rest of the body of the figure is peppered with a number of tattoo style designs. A laughing skull scrawled text, and a signature on the arm are just a few of the interesting details made to this statue. Definitely, a must grab for someone looking for a creative twist on the classic comic book hero.

Super Mario x The Shining - The Shocking
Now, what if Mario ended up in a Stanley Kubrick movie? Well, it indeed may be named The SHOCKING. This clever spin on the main character Jack of the Shinning has Mario peeking through a wooden frame wearing the same outfit as Jack did when he axed his way into the bathroom and delivered his famous line.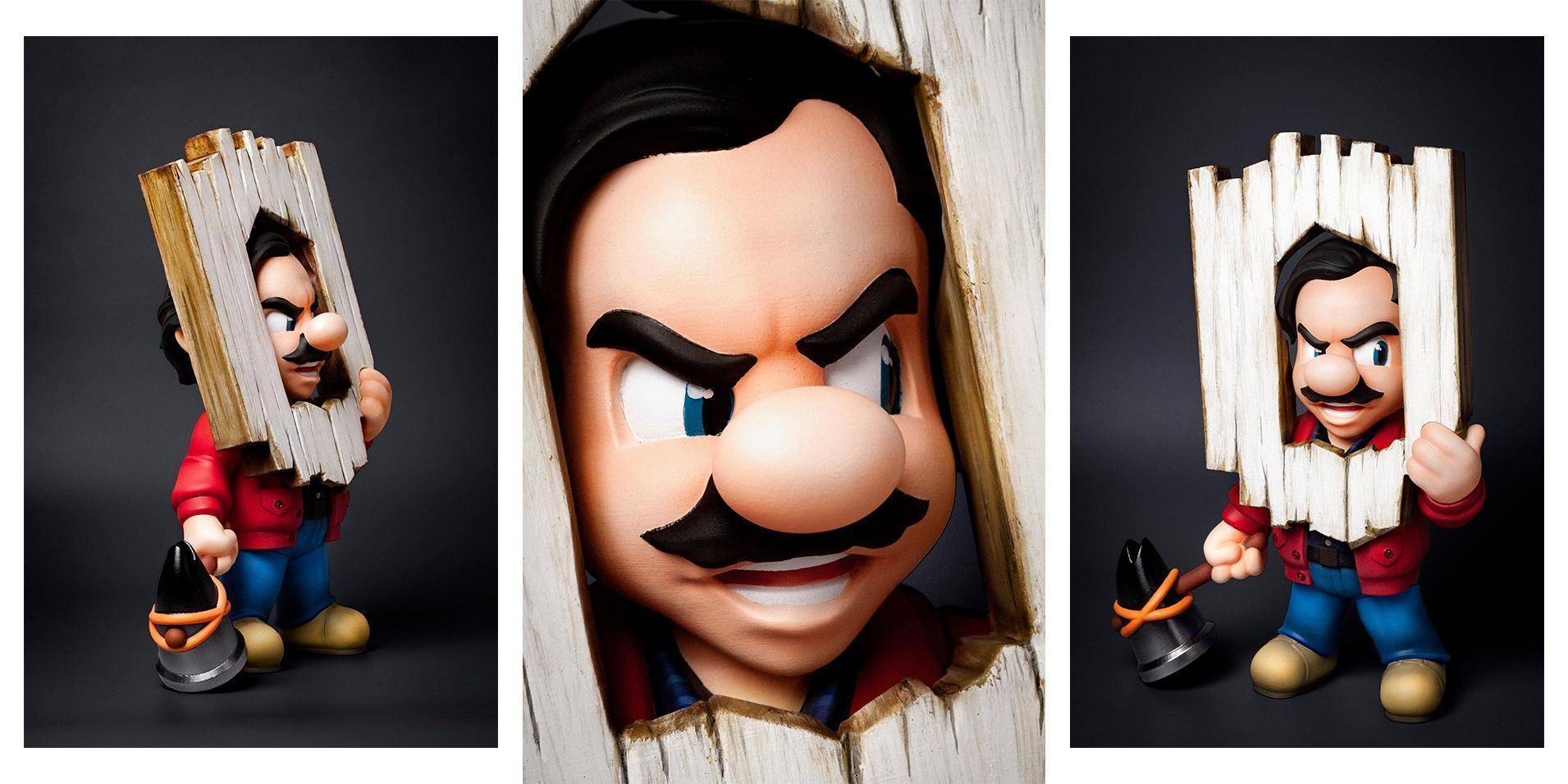 " HERES JOHNNY ~~~ "
All though you are more likely to see Warioware instead of Johnny Carson in the Mario universe this interesting nod takes a little scouring to discover it's Mario inspirations. The mustache is a big hint but lacking the overalls and hat what really clues you in is the hammer Mario is holding. The very same you may see being flung at him by Hammer Bros in any number of Super Mario games.
This hand-painted piece comes in at 31cm in height, and is a great way to celebrate two great pieces of media history!
POPEYE ™ x Fools Paradise - POPEYE
What is pop culture without POPEYE? Well, it can be a lot of things sure, but this character was really one of the first household names back when television cartoons were becoming big.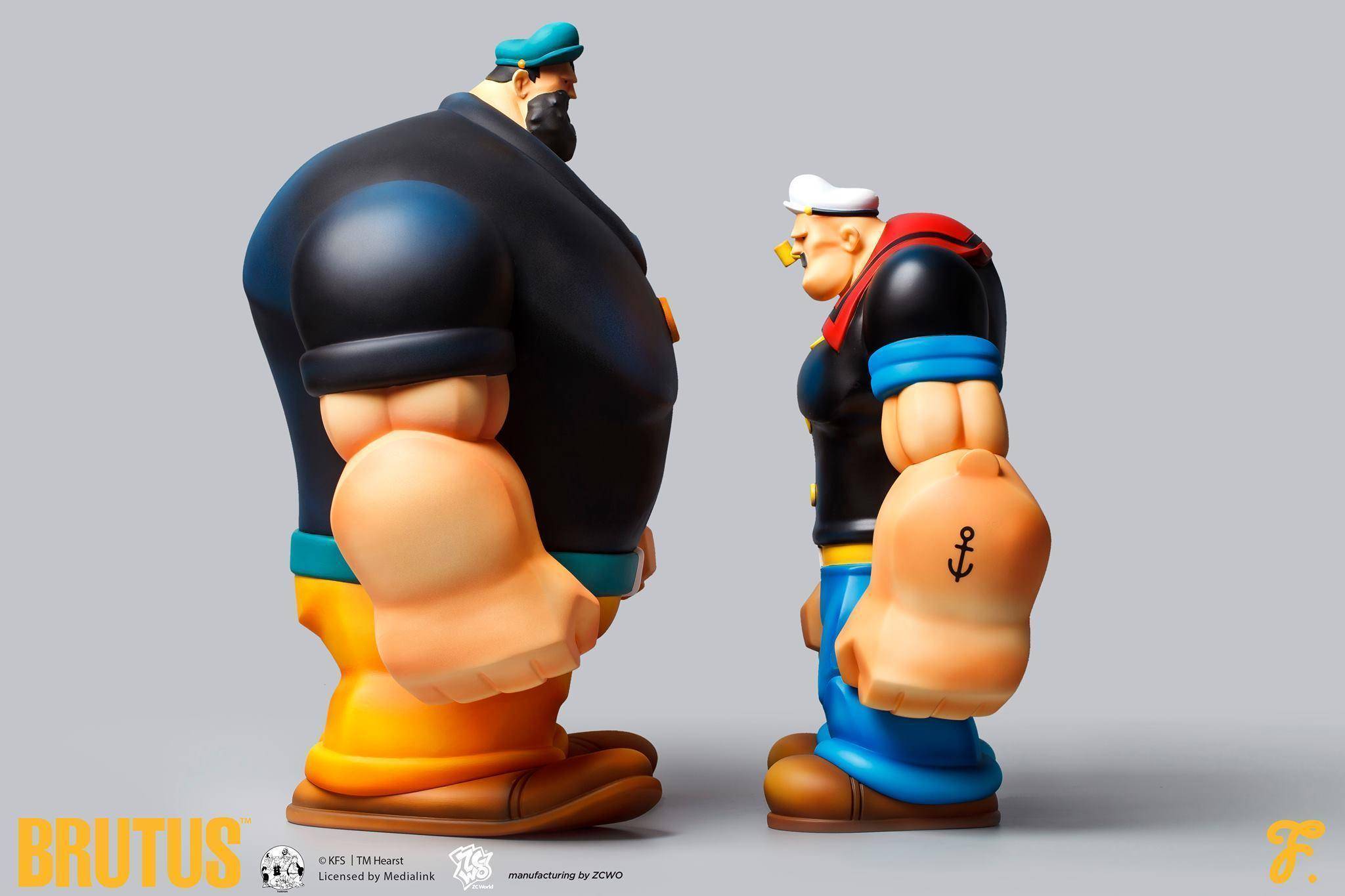 POPEYE ™ x Fools Paradise - BRUTUS
You may surely remember popeyes nemesis Bluto? Well, here we have an excellent homage in the form of POPEYE x Fools Paradise BRUTUS figure.
Coming in at 45cm tall this statute is THICC as thick can be. The massive arms iconic to the POPEYE franchise are obvious but are absolutely exaggerated to a fantastic degree on this piece. The massive beige shoes just add to the ridiculous nature of this design and the figure is an absolute knockout. Like literally it could probably knock you out if it falls on your head so be careful where you put it!
Probably the best part of the figure is the extremely proportionally microscopic head given to the character. Considering his enormous size this tiny head with the even tinier hat makes for a great juxtaposition to the hilarious bulbous nature of this figure. The arms are wonderfully detailed giving excellent shading to the biceps and forearms. Definitely, a must-have for any classic cartoon fan.

Super Saiyan Borley - FURUPAWA
What is Dragon Ball without a little Broly?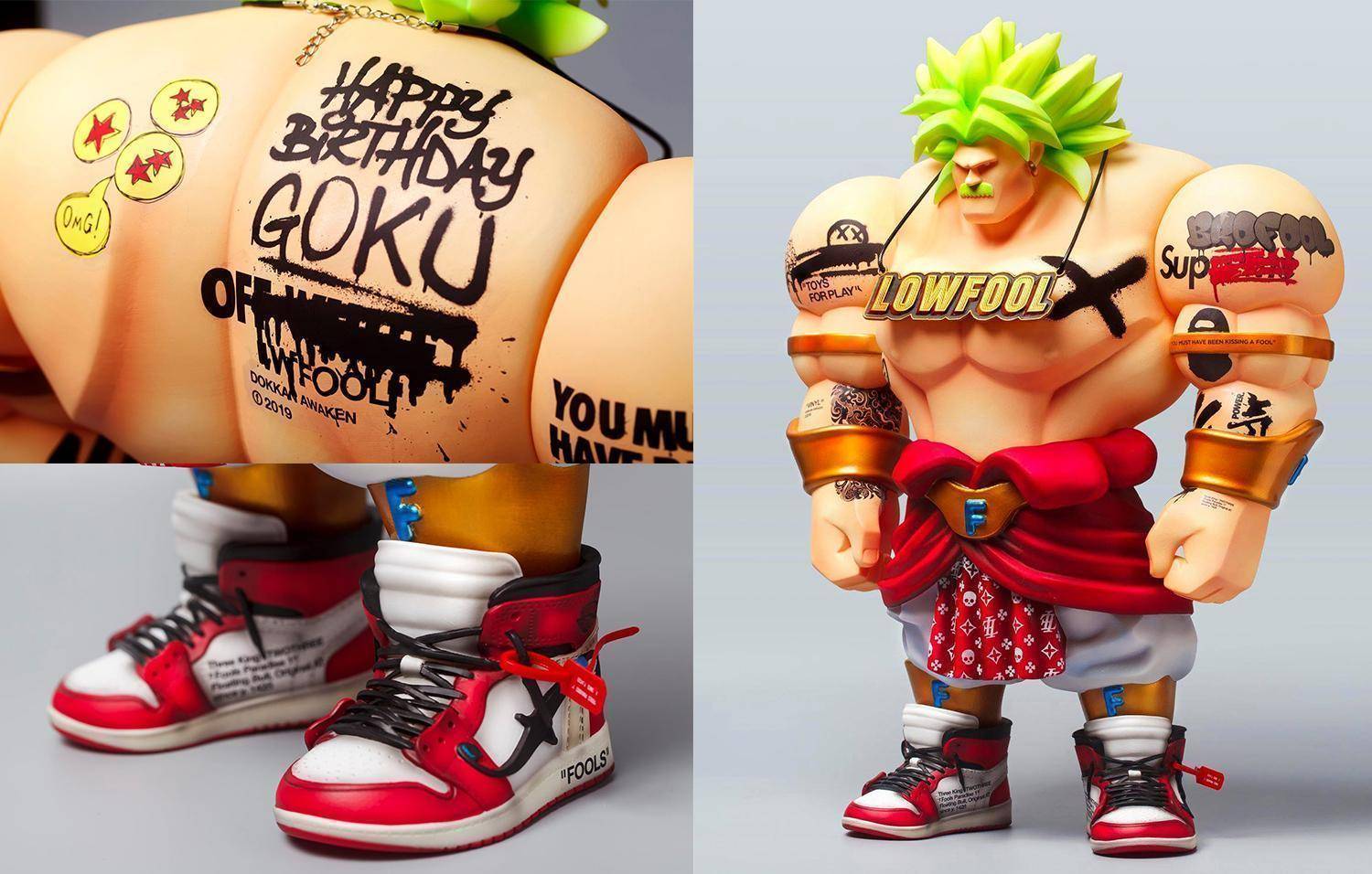 You may know the Super Saiyan to end all Super Saiyan but how about a Fools Paradise twist? You will find it here with the DOKKAN AWAKEN FURUPAWA 48cm figure.
Sporting a big LOWFOOL pendant sitting on the massive chest this piece is an awesome twist to the recently featured Broly from the newest Dragon Ball movie.
His belt's gem is replaced with an F no doubt standing for FOOL in FOOLS PARADISE and the sneakers just add to the style of this piece. There are a ton of details on this figure, from the graffiti styling across its body to the shading and shaping of the fabrics, this is simply an awesome piece and a great faceoff for the Super Saiyan 3 dedication we saw before.

Fools Paradise doesn't stop there. There are a number of other figures you can grab that will certainly be worth your attention. The signature style that Fools Paradise gives to their creations is iconic in its own right.
Take their Last Hire figure for example.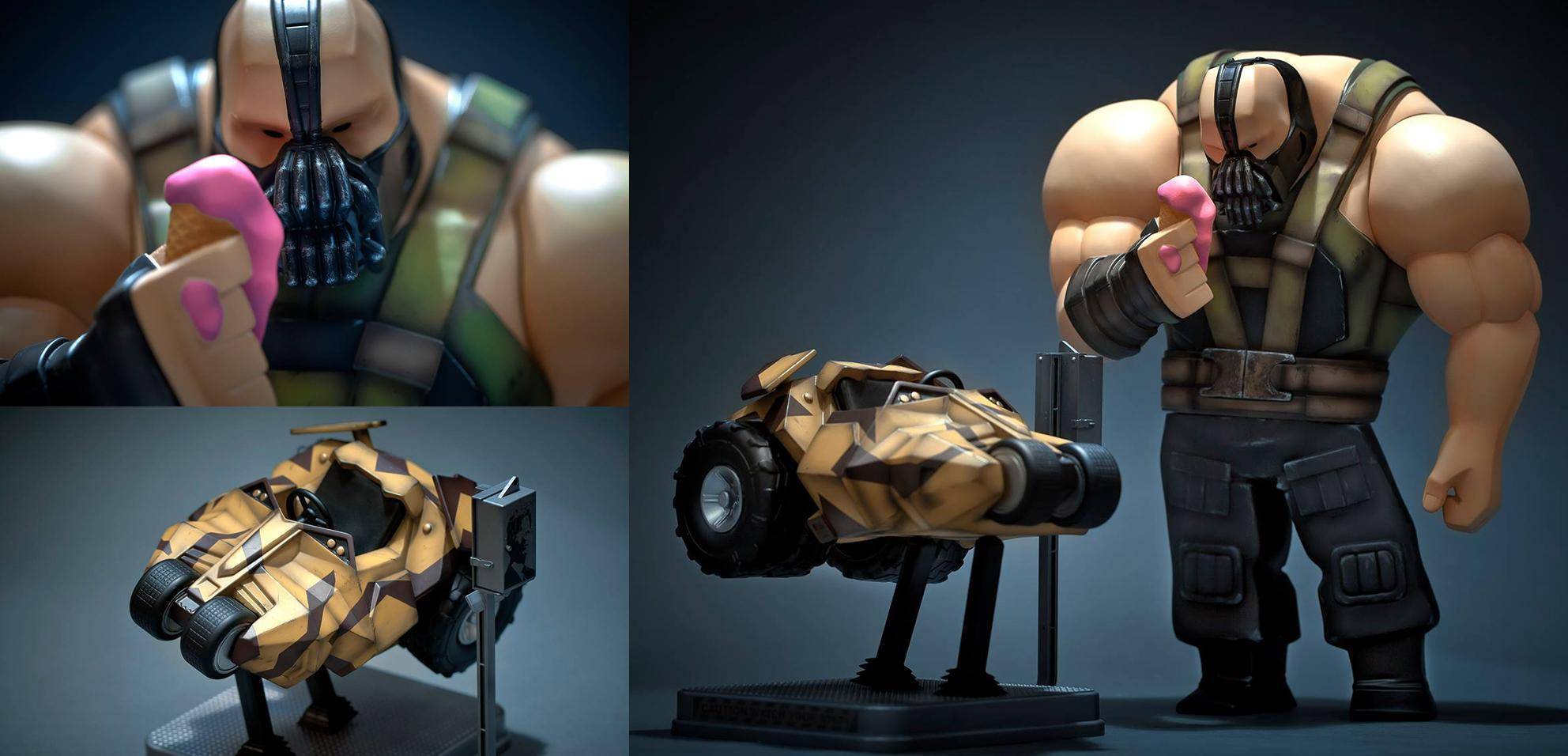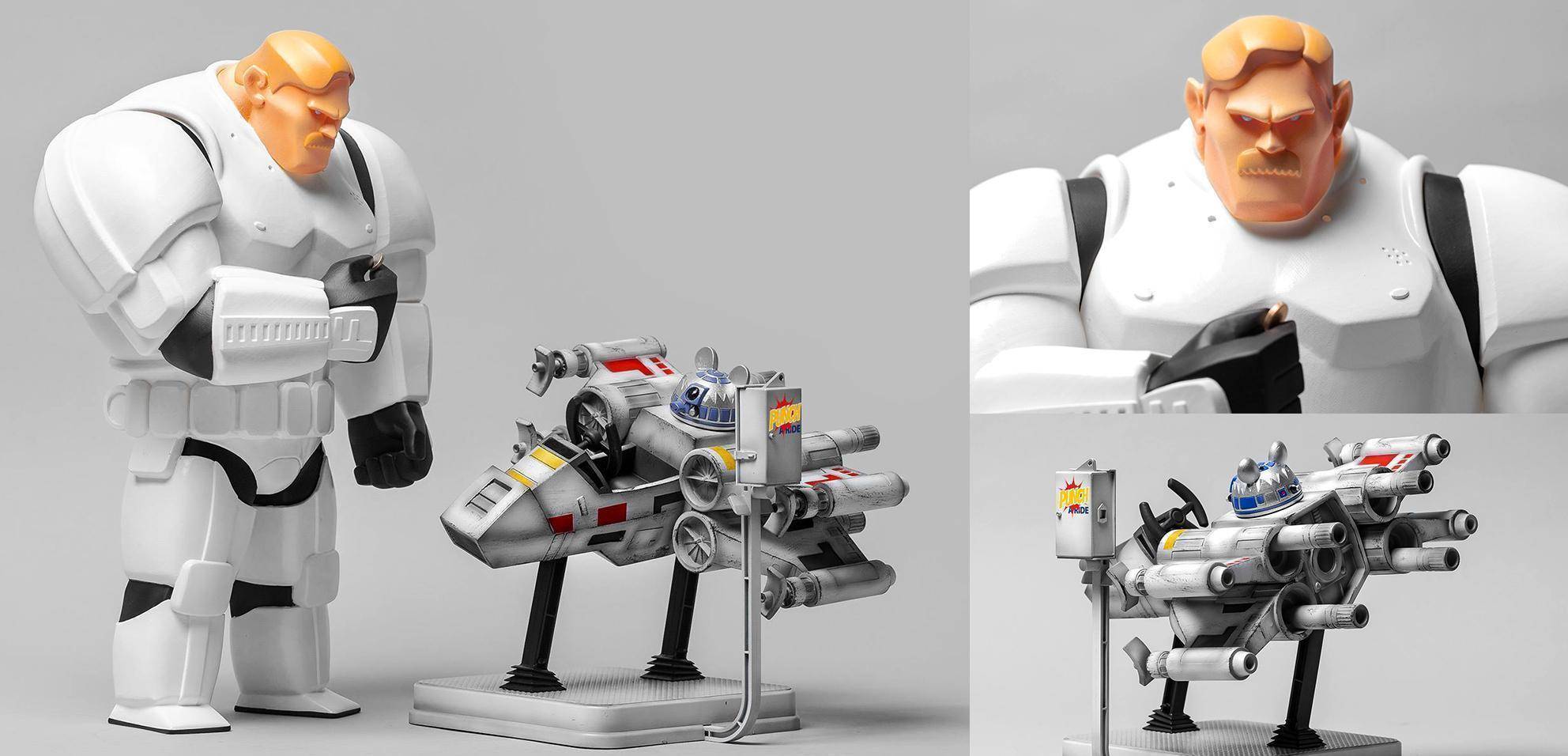 This cartoonish rendition of Nolan's Dark Knight Rises Bane overlooking a movable coin-operated tumbler rider is fantastic. As an ice cream cone melts in his hand the dumbfounded Bane seems to only imagine how his massive body will fit in this ride that he must desperately want to go on.
Street Fighter Video Game - Lowfool vs Lowfool
Then there is the Lowfool vs Low Fool inner conflict.
It's probably best to call this a Part one of two as there will be an opposite figure with this set. Lowfool vs Lowfool inner conflict shows the Superman Style Lowfool haunched over an arcade cabinet as he battles in a street fighter style video game.
There is a ton of detail in this figure especially with the comically small arcade cabinet Lowfool is haunched over. The game depicts a battle in action between two pixelated Lowfool characters in a fighting game.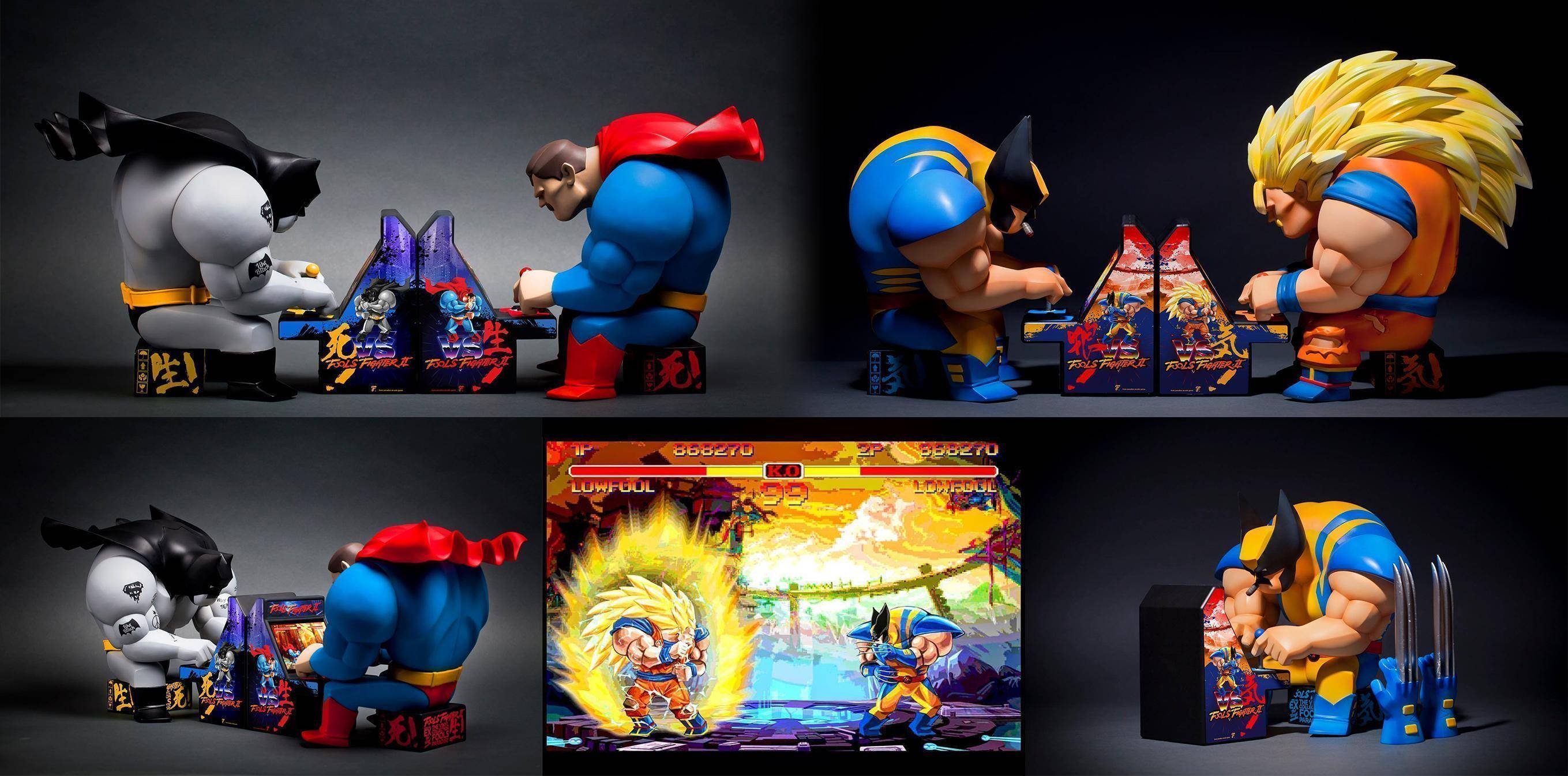 There are prototype versions of the outline of the soon to be batman style Lowfool character that will pair with this figure so definitely wanna pick them both up so you can complete this awesome display.
You just gotta love Lowfools mustached and red eyes, perhaps a homage to the Superman after returning from regenerating in front of the sun.
+More artwork you may interested
The Godfather x Garfield - The Catfather
Pinocchio x Clockwork Orange - Clockwork Pino
Super Mario x Forrest Gump - Super Run
Dragon Ball ( Vegeta & Trunks ) x Back To The Future - BTTFOOL
...... and more coming.
Fools Paradise Generation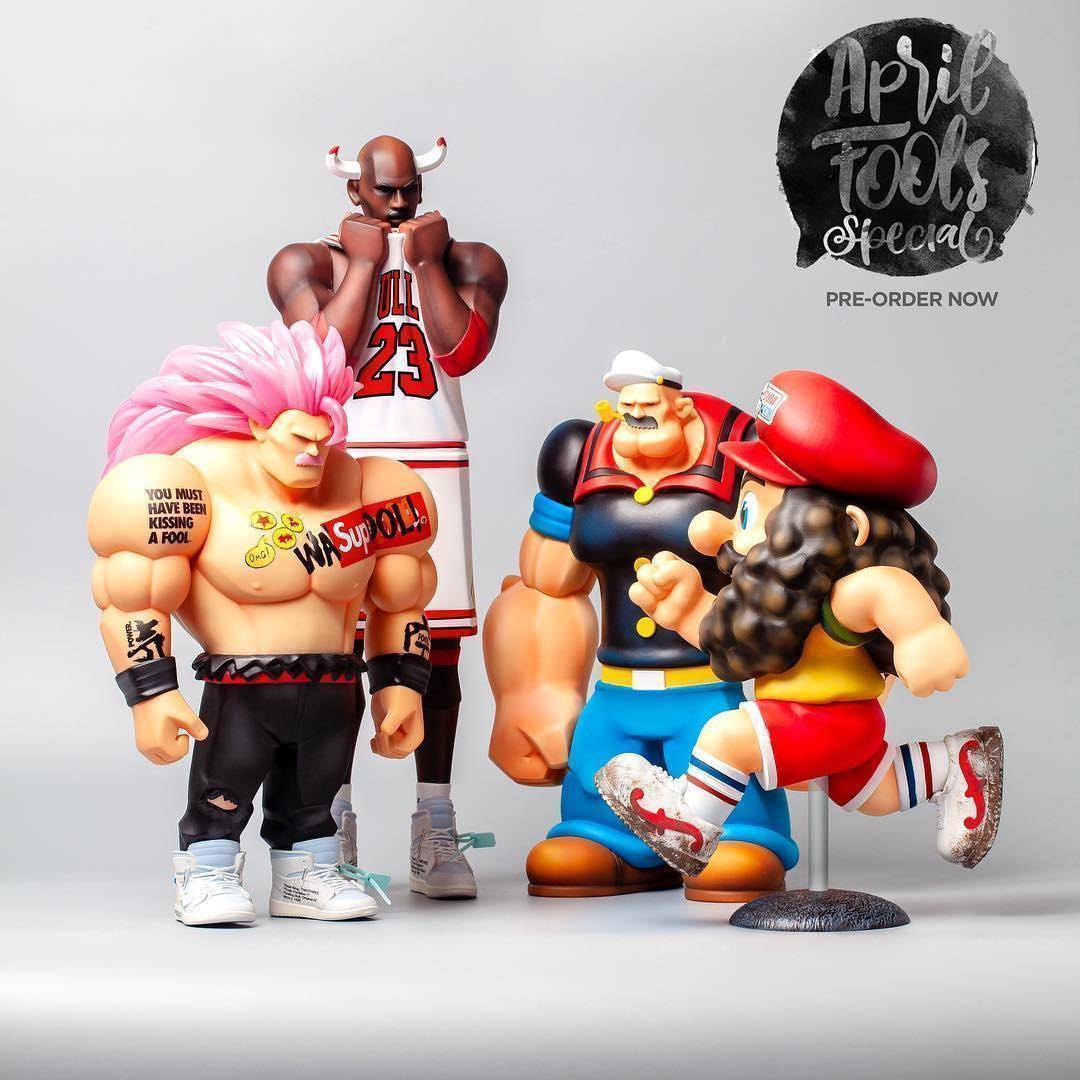 Fools Paradise is an incredibly unique creator of collectible figures and statues. The detailing and styling are astounding on these pieces.
In order to understand the exciting entries into the toys as the art market, it is important to know a little bit more about it.
There is a new wave as of recent years of contemporary art in toy form. Much of this is likely due to the nature of popular media as of late. With character-driven movies, comics, and games becoming more prevalent and toys and collectibles, in general, being sought after, there are new collectors in this sphere.
This gives many artists great opportunities to create interesting pieces that are sought after by fans and collectors alike. Designers for some time had been relegated to graphic art or representations but the new wave of art like depictions in toy form has been making waves over the last few years.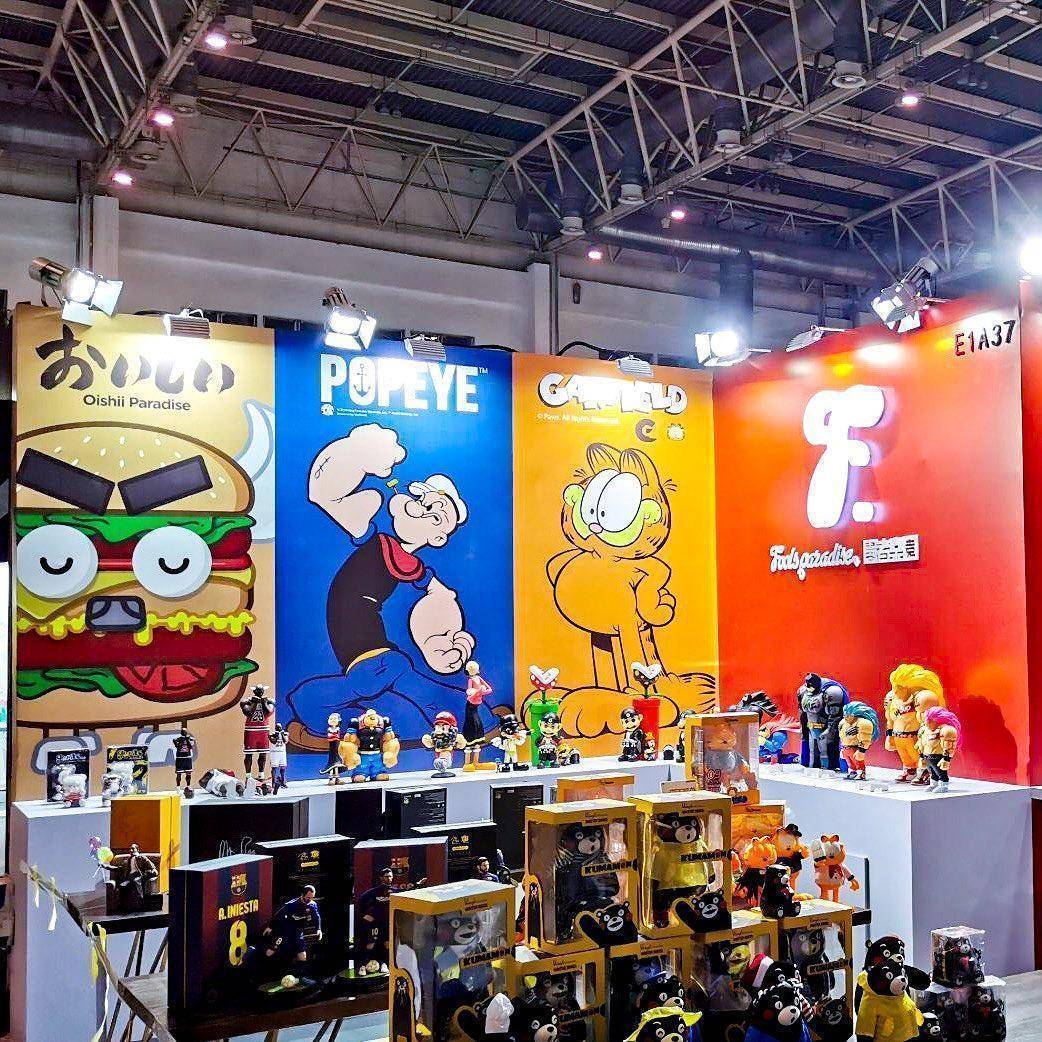 Generally, in the west, this market isn't as tapped into yet. Many consumers have been given direct exposure to mostly homegrown iconic media, this makes the prospect of these twist based figures somewhat alluring. Many collectors in the Western Market seek replicas and dedications rather than creative twists which is why it hasn't taken off as it has overseas, however, this trend is beginning to move in different directions.
For many foreign designers including Fools Paradise, it feels as though the mashing of cultures and media is sort of building bridges with design and creativity. Melding Eastern icons with Western icon's is an artistic olive branch and a very cool way to share visions and art with one another.
Hopefully, we will see this passion begin to blossom in America the more willing we are to appreciate each other work and learn from it the better off we all become. This is what makes Fools Paradise such an exciting studio.

Is Designer Fan Art Acceptable?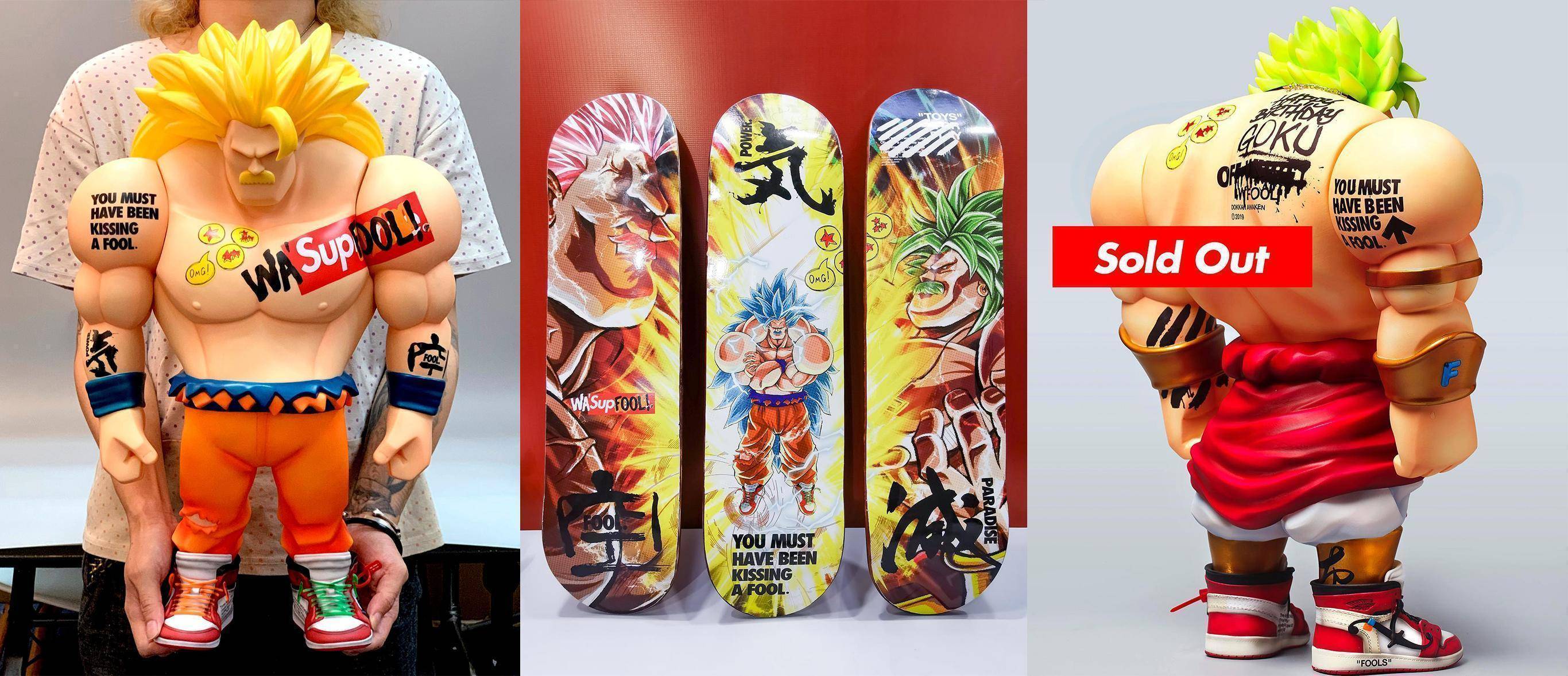 It takes a very different approach to contemporary art and makes it more alluring to those who only believe fine art is the only appreciated medium.
This simply isn't true, what we are seeing is an evolution in design and art across the world. You may have heard of Pacific Rim the Kaiju inspired giant robot vs monster movie by director Guillermo del Toro.
While many may have perceived it as simply a fun summer action romp it is actually a very important movie as it bridges the desires of different audiences together. Giant Monster movies are huge across the world, especially in Japan and an American made movie gave a heartfelt dedication to the genre that rose to great popularity in the '60s and beyond.
It generated a sequel, as well as let studios like Lionhead, know that western audiences too are interested in Kaiju style movies. This led them to acquire the rights to develop and produce a Godzilla movie for Western audiences. That movie turned out so successful they even developed the recently released sequel.



Fools Paradise represents the same sort of connection. Taking western influences and melding them with the Japanese to make something completely new and exceptional. The Lowfool figures are an awesome dedication to iconic characters as well as introducing an interesting twist into the mix.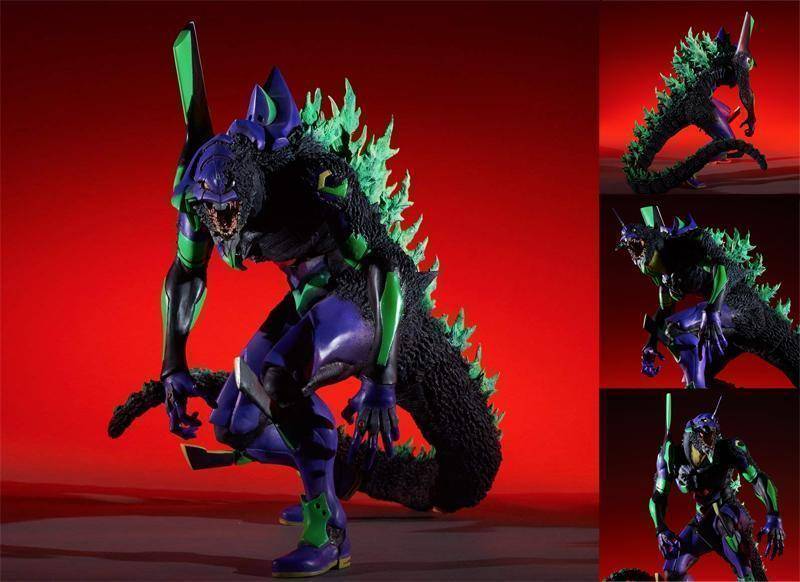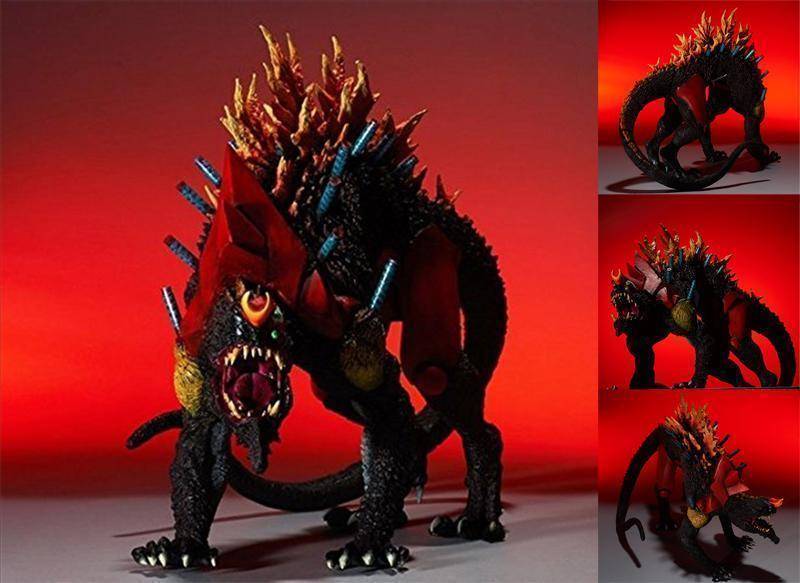 If you are a collector or interested in reaching out to find something new, why not give Fools Paradise a look. You can find their site online and you can even preorder some of the newest drops coming out this year and into 2020. Be sure to stay up to date with their releases and designs as they are always developing cool new looks and twists on the toy-art medium.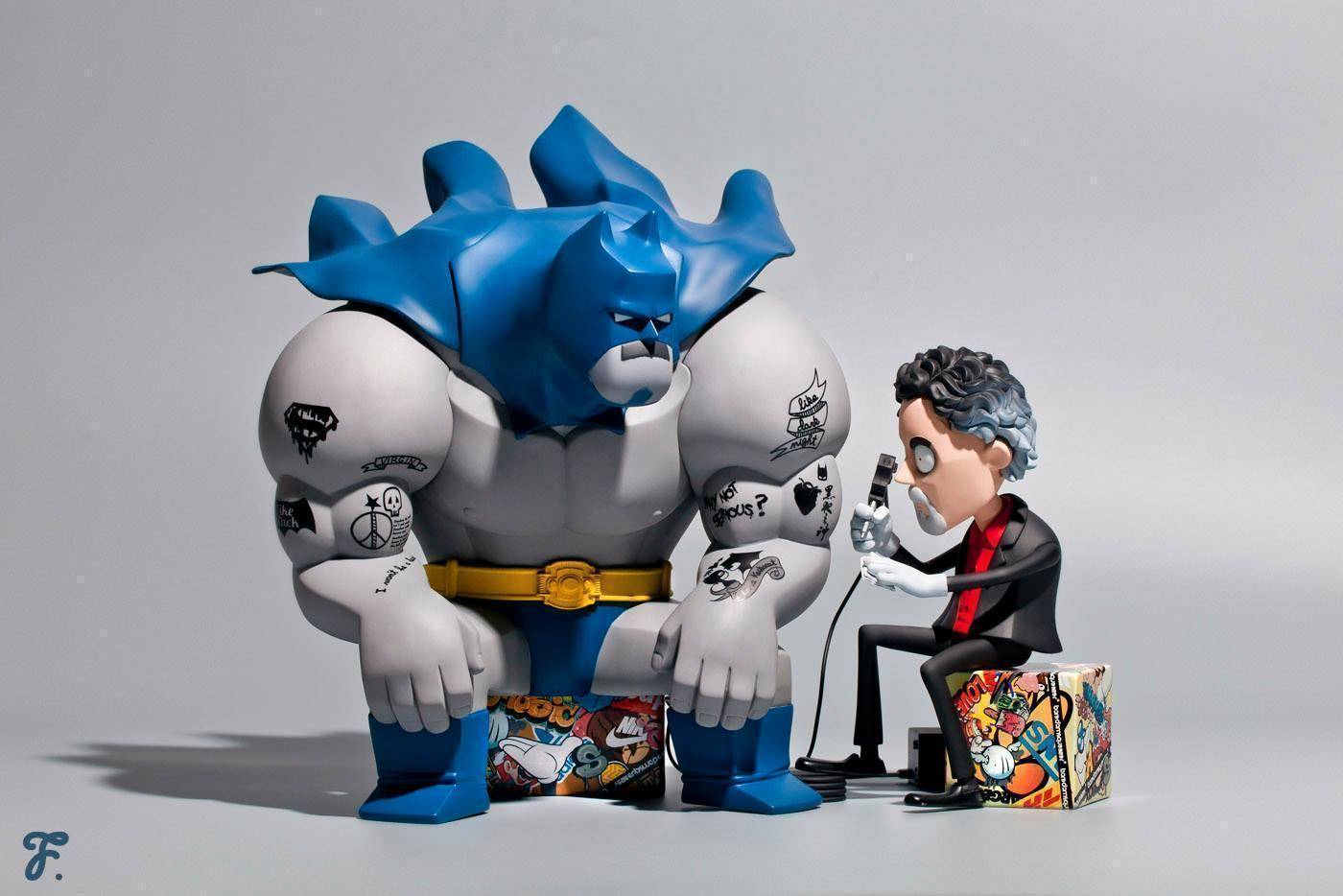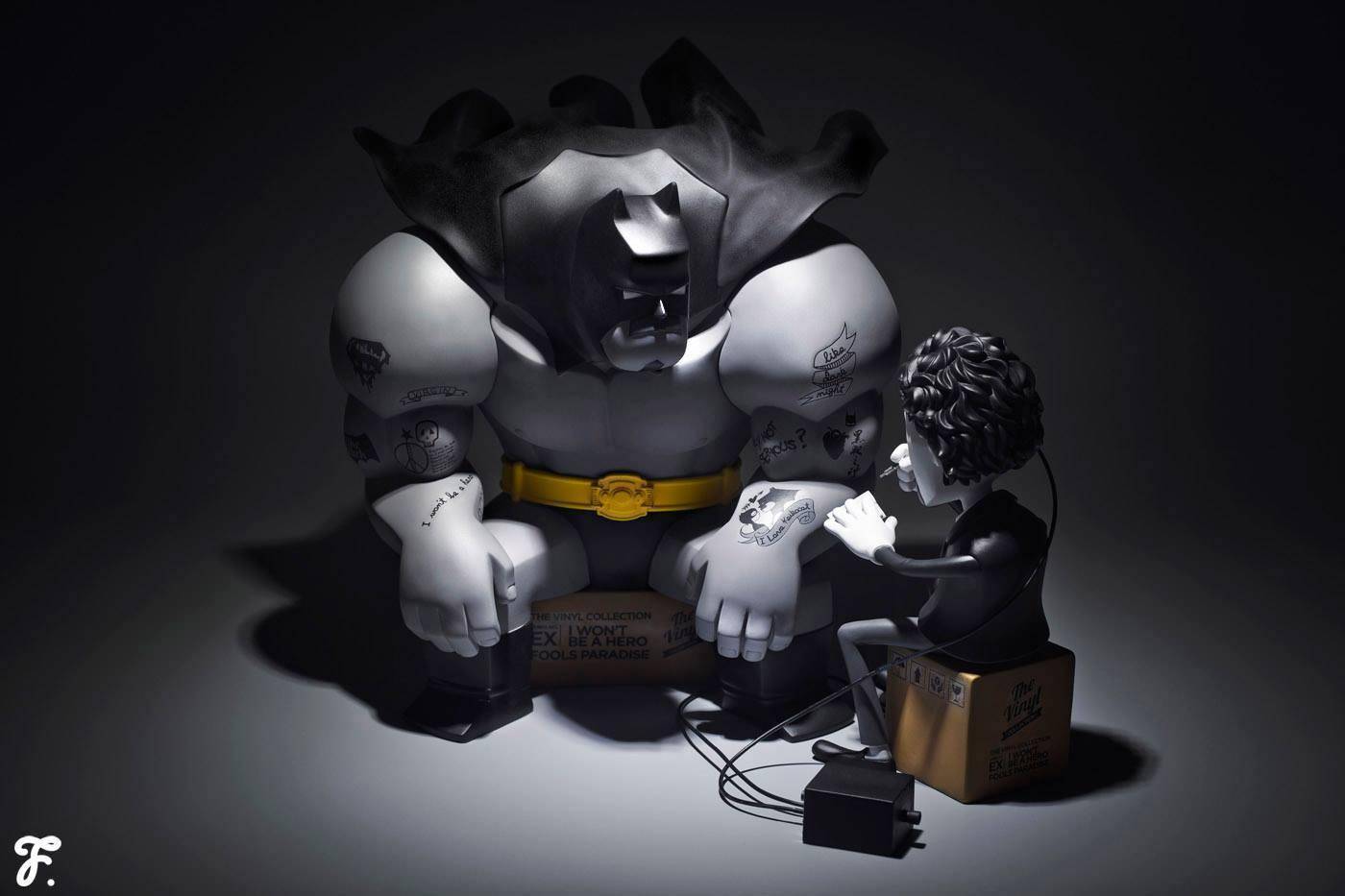 " I Won't Be A HERO, Tim. "
Take a look for yourself, maybe you will find an iconic homage to a character you love and through that discover a whole new world of toy art designs and figures.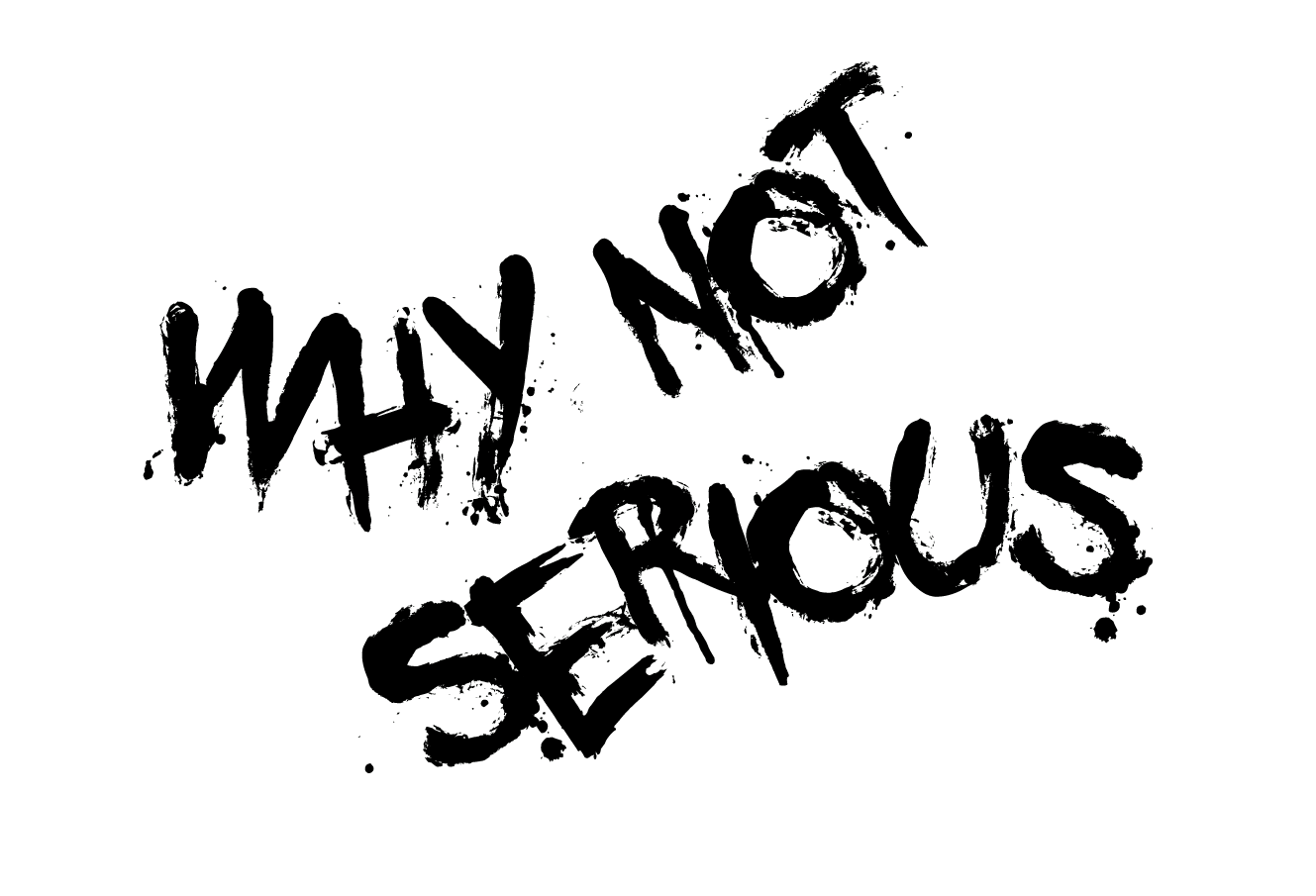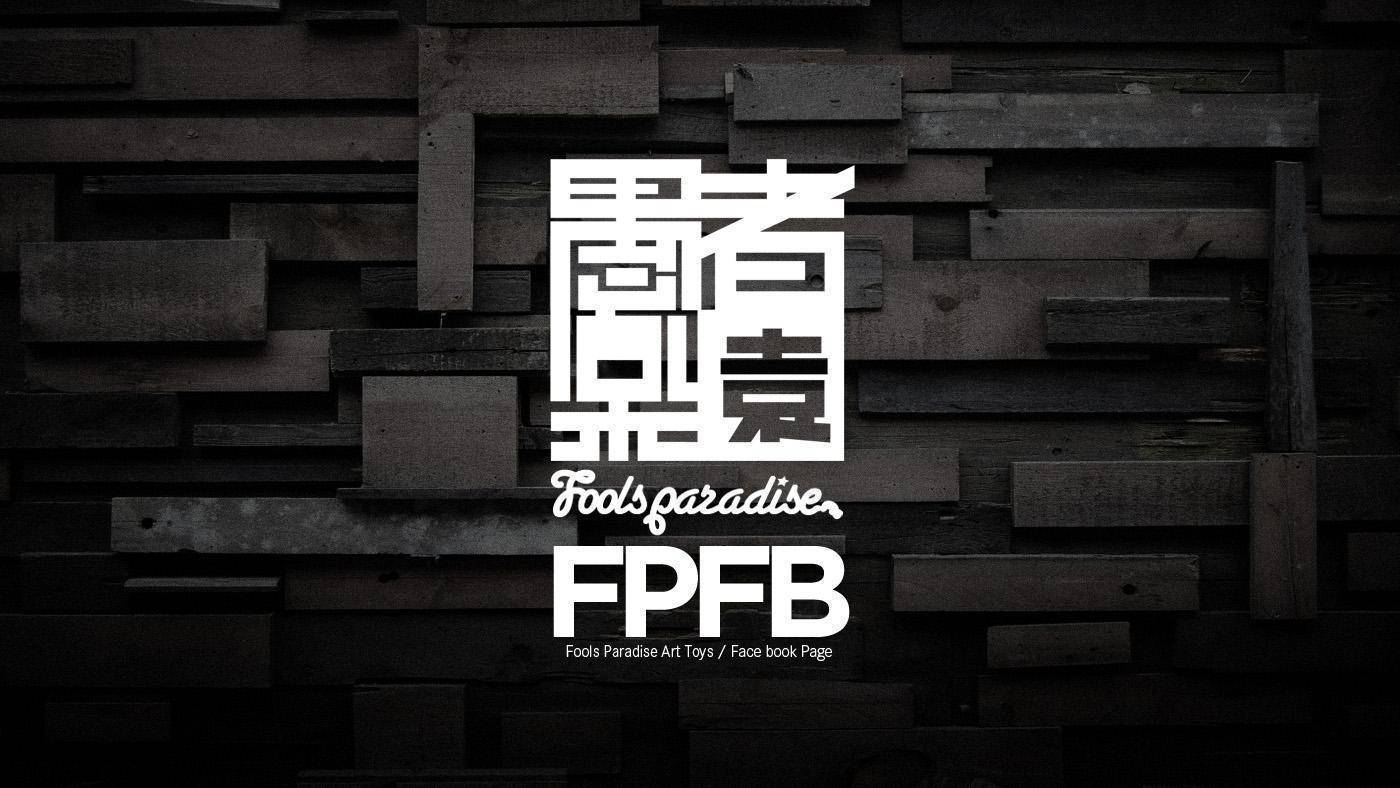 And also if you are a fan of playing toys or collectors you are welcome to stay
Subscribed
and add to favorite to IFiDEA news you can get More about upcoming
Toy NEWS
.
Purchase Link
Welcome to the IFiDEA
I tried to cover as much as I could. If you like the article please give us a thumbs up.
Please, do share this article guide with others who wants to get an idea of the designer figure for some time.
To see more NEWS about Toys.

Don't forget to share this post!
Sharing is caring